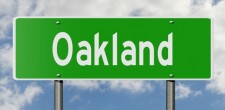 TMC Financing helped Milestone Gallery & Event Venue, 4505 Burgers and BBQ, and Zuo Modern buy their buildings in Oakland, CA
Oakland, CA, October 25, 2017 (Newswire.com) - These three businesses don't have too much in common, all in different industries, but what they do share is a vision for economic development and company growth in Oakland, California. Jig & Scroll, a multi-purpose event venue, 4505 Burgers and BBQ, a restaurant specializing in locally grown and sustainable meats, and Zuo Modern, a worldwide modern furniture wholesaler, were each successful in their existing locations but saw the advantages of expanding in Oakland.
Originally from Kansas City, Ryan Farr, owner of 4505 Burgers and BBQ, experienced great success at his San Francisco location due to specialization in not only delicious, but locally grown and sustainable meats. The restaurant prides itself on cooking and serving barbeque in the way it tastes best – by using a historic wood fire pit, one of the last in the area, adding to the ambiance and charm/uniqueness of the restaurant. With help from TMC, Ryan secured a loan that financed a 1,000-square foot building on MacArthur Boulevard in Oakland. Hoping to replicate his success in San Francisco, 4505 has already had some encouraging reviews: being voted one of the top 25 burgers in both San Francisco and Oakland.
"If you own the business, you should own the building."

Barbara Morrison, CEO & Founder of TMC Financing
With the trend of strong corporate growth happening in Oakland, California, Christopher Curtis, and David Boyle saw an opportunity for success with Jig & Scroll. The two managed an event space in San Francisco for several years and guided the company through tremendous growth from 2010 to the present. They saw the potential for similar success in Oakland, and acquired a 15,000-square foot building on Alice St with an SBA 504 loan.
Zuo Modern, a worldwide modern furniture wholesaler, was very successful in its other locations but also had an interest in expanding in Oakland. The two visionaries, Luis Ruesga and Steve Poon, have created a company that is unique within the niche market because they not only sell furniture but they also have exclusive products that embody several different and bold design styles. Zuo Modern is proud to provide contemporary furniture to businesses such as hotels, interior designers, and staging companies. Luis and Steve secured a 52,400-square foot office/warehouse space on Swan Way in Oakland, CA.
About TMC Financing
TMC is a Certified Development Company that provides commercial real estate financing to small business owners via the SBA 504 Loan Program. The Small Business Administration 504 loan program allows small business owners to finance commercial real estate and other fixed assets with long-term, below-market, fixed interest rates. TMC consistently ranks among the top certified development companies nationwide, and has funded projects worth more than $9 billion across California and Nevada. Nearly 5,000 small businesses have benefitted from this financing, resulting in the creation of an estimated 50,000 jobs. TMC is also the No.1 SBA 504 hotel lender in the United States.
Learn more about TMC Financing.
Source: TMC Financing
Share: