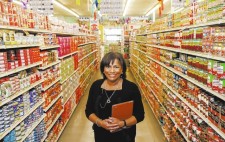 A look back at her 10 Years at TMC
LAS VEGAS, November 22, 2017 (Newswire.com) - After 10 years of leading the Las Vegas market for TMC Financing, Ann Santiago, Senior Vice President of Business Development, is retiring. Ann has been an indispensable asset to TMC since the beginning. She built a successful career out of helping Nevada's small businesses owners gain access to capital through the SBA 504 lending program.
In 2007, after operating out of California for over 20 years, TMC decided to move beyond California's state lines to set up shop in Las Vegas and Ann joined the team to lead the initiative. The economy was in post-recession and small- to medium-sized businesses were closing, unemployment rates were high and lending to these businesses was uncommon.
Hire a whole bunch more women making the decision to give women credit.

Ann Santiago, Former SVP of Business Development
Under Ann's leadership, TMC found its niche in helping these small businesses obtain funding to purchase commercial real estate and expand their operations. Largely thanks to Ann's hard work, TMC is now one of the leading Certified Development Companies (CDCs) in 504 financing throughout Southern Nevada. TMC has held the title of the No. 1 SBA 504 lender in Clark County and Southern Nevada in volume and number of loans for a number of years.
"Ann has been an asset to TMC from day one. She has created a legacy, providing an example for everyone to look up to and big shoes to fill," said Barbara Morrison, President and CEO of TMC Financing.
Ann attributes her success to her passion for her clients and the inspiring work they do. "I really care about my small business clients. I've been working with small businesses for most of my career and it is very rewarding when you see successful businesses grow and develop," Ann explains.
"Ann's passion always stood out to me. She would light up when asked about a client and their 504-success story. She is a terrific advocate for TMC. Ann took great pride in her work, always going the extra mile to assist clients and referral sources. She treated every relationship uniquely," said Jon Friedman, Business Development Support and Analyst at TMC Financing.
Ann has had a front-row seat to her clients' victories over the years. Streets, neighborhoods, and cities have been revitalized by Ann's work with local small businesses and the 504 program. According to Ann, small businesses make Las Vegas one of America's greatest cities. Her role has certainly played a huge part in that.
Between 2007 and 2017, Ann has helped nearly 150 small businesses gain access to over $87.7 million in SBA financing. A real estate purchase is a dream for many small businesses and Ann has done tremendous work helping make these dreams come true. TMC will miss Ann, her attitude, energy, and compassion. Everyone at TMC is grateful for being able to work with Ann for the past 10 years and wish her the best.
Let's take a look at some of Ann's great accomplishments.
One of Ann's first loans was to Shawn and Racquel Toyozaki, owners of Advanced Pro Remediation. This business is one of the first of its kind. After working in both construction and mold remediation, Shawn Toyozaki realized there were very few competitors in Nevada's mold remediation business, so the couple created their own.
After completing a project for a large Nevada building company, word of their impeccable work was spread and their business grew tremendously. In 2007, the business was able to expand to a new space, with help from Ann and an SBA 504 loan from TMC Financing. They purchased the ideal space for the company that allowed them to expand into new markets, go after new referral sources, and expand from 20 to 40 employees.
"TMC and Ann were terrific. She was very direct, explained everything clearly, and used words that I could understand. When I called her, she would call back within an hour and I never had to wait for a response. If I ever need a commercial loan again, I will definitely use TMC," said Racquel.
Advanced Pro Remediation has continued to thrive and is rated as one of the top damage restoration companies in Las Vegas, exceeding expectations in customer service and performance.
In 2009, Ann was honored by the National Association of Women Business Owners as a finalist for the prestigious Glass Ceiling Award at the annual "Women of Distinction" awards. Ann was recognized by the organization for her impactful contribution to the local Southern Nevada community and her personal work ethic, which has raised the bar for all women in business.
NAWBO identifies Ann as a role model and champion of female business owners, a cause that is very important to Ann. Ann has made it her life's work to help fuel the growth and success of female- owned businesses everywhere. In 2015, Ann was again honored by NAWBO and the local Las Vegas business community as both a "Woman of Distinction" and a "Woman who means business."
Ann has been a long proprietor of women in business. She is a member of NAIOP, the National Association for Industrial and Office Parks, and SIOR, the Society of Industrial and Office Realtors--both groups that are predominately male in membership.
When asked what could be done to encourage more women to start their own businesses, Ann replied, "Hire a whole bunch more women making the decision to give women credit."
Many of the businesses Ann worked with are women-owned, such as Hyundai's Only Specialty Vehicles, MC Law group, Fresh Wata, Lola's Louisiana Kitchen and Crystal Eller Law Group, just to name a few. In 2015, TMC's Las Vegas office provided more funding to women-owned businesses than any other TMC office with more than $15 million in 504 loans.
The SBA 504 program was created to help small businesses not only purchase commercial real estate, but to create jobs as well. In 2012, Sylvia and Jaime Martinez, owners of a local chain of Hispanic supermarkets called La Bonita, reached out to Ann to finance their fifth location in Las Vegas, Nevada.
In Santiago's 10 years at TMC, she has observed a lot of changes, particularly in the variety of businesses seeking SBA financing. A majority of the SBA 504 loans go to small businesses in the medical services industry, whereas retailers are a less common borrower. Over the past few years, more retail businesses like La Bonita have received SBA financing, creating a more diverse pool of borrowers. From 2012 to 2017, La Bonita has added over 245 employees to their staff and started with 300 employees when they applied for the loan back in 2012.
Las Vegas is home to many vibrant and colorful businesses. One of Ann's "very Las Vegas" clients was Viva Las Vegas Themed Weddings located on South Las Vegas Boulevard. Viva Las Vegas performs 6,000 weddings per year and is one of the busiest wedding chapels in the world.
TMC financed a $6.2 million remodel and expansion project for Viva Las Vegas, which allowed them to add a new 11,375 SF facility to their existing operation. This small business created 10 new jobs and was named "Best Wedding Chapel in Las Vegas" by multiple publications, including the Las Vegas Review Journal and Nevada Magazine.
One of Ann's clients, Red Rock Fertility, was the first business of its kind in Nevada. Before Dr. Eva Littman founded Red Rock in Las Vegas, Nevada, Las Vegas residents had to travel to California and beyond to seek appropriate care.
Founded in 2008, Red Rock Fertility is a modern, boutique-style fertility practice that has grown to be one of the most successful fertility centers on the entire West Coast. Dr. Littman is passionate about accepting and overcoming challenges in her field. She often takes cases with less than five percent change of pregnancy as she is motivated by the opportunity to make dreams come true.
In 2014, Dr. Littman was connected with TMC by her bank and worked with Ann to purchase a two-story, 12,500 SF building with an SBA 504 loan. Littman said that the new building purchase would allow the practice to accept 20 percent more patients and, with the added space and clientele, she will be able to hire more staff members.
Dr. Littman and Ann have a lot in common. "Ann will always fight for her deals to see them get approved and funded. She does what it takes to make sure it happens. She is never afraid to take on a challenging deal," said Chief Operating Officer, Raymond Monahan, TMC Financing.

In 2017, Dr. Littman won the Nevada Small Business Person of the Year Award and traveled to Washington, D.C. to join winners from all 50 states to meet the SBA Administrator.
Source: TMC Financing
Share: