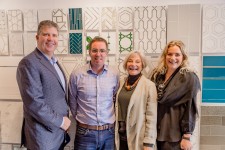 TMC Financing Helps Oakland Tile Company Grow Business by Utilizing Two SBA Programs
OAKLAND, Calif., October 12, 2018 (Newswire.com) - Art Tile is a community business specializing in the wholesale of tile and stone products for homes. After 30 years of serving the Bay Area, Art Tile was able to acquire a building in Oakland and start a new vertical to their business by utilizing Small Business Administration (SBA) Loan Programs.
Utilizing the SBA 504 Program to Purchase a Building
A small business needs to own their building. Thankfully, with the way the SBA loan is structured and with the great service that TMC offers, we were able to accomplish that.

Patrick Feely, Owner, Art Tile
Patrick Feely, the owner of Art Tile, comes from 11 generations in the natural stone industry. Patrick has always had a passion for not only stone but also the business surrounding the stone. Patrick knew he could not sustain a long-term, successful business while leasing property in Oakland.
"We hear lots of stories of businesses that are doing quite well and unfortunately their lease rate doubles or even triples in a couple of years," explains Patrick. "To own your own building, particularly in the bay area, is fundamental to allowing one to think long term.
"A small business needs to own their building. Thankfully, with the way the SBA loan is structured and with the great service that TMC offers, we were able to accomplish that."
TMC connected with Patrick in 2014 and helped him buy the building he was leasing for Art Tile. By utilizing the SBA 504 Program, Patrick was able to purchase the building located at 4336 Broadway in Oakland with only a 15 percent down payment.
The acquired property is a two-story, 6,100-square-foot mixed-use commercial unit with three residential units on the second floor. By purchasing the property, Patrick was able to stabilize his occupancy costs and even increase his monthly cash flow by renting out the residential units.
Community Advantage Loan
With the success of Art Tile, Patrick was eager to start a new vertical focusing on natural stone countertops. However, he didn't have the capital to make it happen.
"Starting a new business can be expensive so I reached out to TMC to see how they could help," states Patrick. "They got me into the Community Advantage Program and provided a loan to help with the startup costs for that business."
"While the 504 Loan is perfect for established businesses who are ready to purchase real estate for their business, the Community Advantage Program is better served for businesses not quite there yet," according to Barbara Morrison, TMC founder and president. "The Community Advantage Loan is SBA backed and can be used towards equipment, working capital or other business expenses."
TMC provided Patrick with a Community Advantage Loan that was used to finance the build-out of a new space in addition to machinery purchases.
Multiple SBA Loans Fuel Success
Recognizing that small businesses are vital to a healthy economy, the SBA has designed these loan programs specifically to aid in the growth of small businesses, many of which are not able to secure financing at reasonable rates and terms.
Being that the 504 Loan is the most affordable loan for a growing business, many TMC borrowers return for a second or third loan as their business continues to expand. Art Tile is a two-time borrower with TMC and Patrick's sights are already set on a new venture.
"I've had such great experiences with TMC Financing. I will definitely return to TMC when I'm ready to purchase my next building for the solid surface business."
About the SBA 504 Loan
The SBA 504 Loan Program provides small and medium-sized businesses with long-term, fixed-rate financing that can be used to finance commercial real estate purchases, construction/renovations, equipment, soft costs, and closing costs. By enabling owners to keep their capital working to grow the business and create jobs, the 504 program provides businesses and communities long-term stability. The 504 Loan is administered by a Certified Development Company, such as TMC Financing, and individual loans are granted in conjunction with a conventional lender.
About TMC Financing
TMC Financing is a high-volume, Premier Lender with the SBA and one of the country's top 504 lenders. During the past 35 years, TMC has provided over $9 billion in financing for more than 5,000 businesses throughout California and Nevada. TMC experts will be happy to answer questions about the 504 loan and guide borrowers through the loan process. Contact TMC today to get started.
Source: Art Tile
Share: