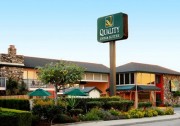 TMC Financing provides unlimited funding through SBA 504 energy-efficiency program
San Jose, CA, June 11, 2015 (Newswire.com) - ​​TMC Financing today announced Shailendra "Sam" Devdhara financed the purchase of the 69-room Quality Inn & Suites Silicon Valley Santa Clara at 2930 El Camino Real in Santa Clara, California, with a 20-year, fixed-rate U.S. Small Business Administration 504 loan. The total project cost is more than $9 million.
This is the third hotel property Devdhara has financed with TMC in the Bay Area. He purchased the 25-room Travelodge at Fisherman's Wharf in San Francisco in 2012 and the 37-room Quality Inn & Suites Livermore in 2013.
"TMC makes things easier. It's always a seamless transaction and that helps."

Shailendra Devdhara, Owner, Quality Inn & Suites Silicon Valley Santa Clara
"TMC makes things easier," Devdhara, who bought his first Bay Area hotel in 1997, said. "It's always a seamless transaction and that helps."
Devdhara was able to qualify for multiple SBA loans by installing solar panels at both Quality Inn properties under an SBA program requiring a 10 percent reduction in energy consumption. "Not only do the solar panels save energy," Devdhara said, "but they help in marketing the hotels. Guests like the idea of going green."
"Sam is known for taking hotels that have perhaps seen better days and adding value," Bruce Whitaker, TMC senior vice president, said. "He does an upgrade and adds the little amenities that value-conscious travelers and families appreciate."
Whitaker said recent changes in regulatory requirements allow hoteliers to finance multiple properties through the SBA when energy efficiencies are met. "That can really make a 504 loan attractive for hospitality owners," he said. "Unlike a 7(a) loan, the 504 program doesn't have a maximum loan amount. At TMC, we've financed projects in excess of $25 million in total costs."
Devdhara is active in local and state lodging associations, serving on the board of the Asian-American Hospitality Owners Association (AAHOA) for six years as North Pacific regional director and director-at-large. "Because the SBA 504 program is available, independent hotel owners can get into the business with a smaller outlay of capital," he said. "That allows us to make improvements on older properties and upgrade a community's accommodation offerings."
About SBA 504 real estate loans
The U.S. Small Business Administration 504 loan program allows small-business owners to finance commercial real estate and other fixed assets with long-term, below-market, fixed interest rates. SBA 504 loans can be used to finance the total project cost (TPC), which can include the purchase price, construction/renovations, equipment, soft costs and closing costs. A typical 504 loan project requires a down payment of only 10 percent of the TPC from the borrower, with the remaining amount split between a first mortgage provided by a commercial lender and a second mortgage provided by a certified development company (CDC). By enabling owners to keep their capital working to grow the business and create jobs, the 504 program provides long-term stability to both businesses and communities. Business owners can confirm they meet the qualifications for an SBA 504 loan by visiting the TMC Financing website.
About TMC Financing
Founded in 1981, TMC Financing is the largest provider of SBA 504 commercial real estate financing in Northern California and Nevada. TMC consistently ranks among the top CDCs nationwide, funding projects worth more than $8 billion across California and Nevada. More than 4,700 businesses have benefited from this financing, resulting in the creation of an estimated 46,000 jobs. For more information on SBA 504 loans and the local businesses they support, visit tmcfinancing.com.
Share: