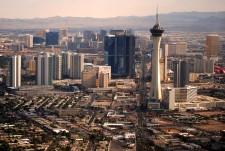 Business Development Southern Nevada
LAS VEGAS, October 18, 2017 (Newswire.com) - TMC is pleased to announce the addition of Christopher Hunter to our Southern Nevada Business Development Team. As Senior Vice President of Business Development, Chris will be providing commercial real estate financing to eligible small to medium sized businesses across Southern Nevada through the Small Business Administration's 504 Loan Program.
Chris has greatly contributed to the economic development and expansion of the Southern Nevada small business community and is excited to continue to do so at TMC. Chris' mission is strongly aligned with the mission of TMC. He takes pride in being a small business champion and thrives on helping small business' grow to their next level of potential.
Based in Las Vegas, Chris has over 18 years of experience in the small business financing industry and has knowledge throughout every facet of SBA lending. Prior to joining TMC, Chris was Vice President of Business Development at Nevada State Development Company, where for seven years, he worked with lenders to provide SBA 504 financing to local businesses, supporting his clients throughout the entire life of their loan.
Chris also has banking experience from working as a Commercial Loan Officer at SouthwestUSA Bank. In this role, he processed all SBA bank loan products from beginning to end. Additionally, Chris has worked as a Business Development Officer and Servicing Administrator for Mountain West Small Business Finance.
TMC Financing expanded to Nevada in 2007 and has since had a tremendous impact. TMC has become a leader is SBA 504 lending throughout Southern Nevada and for five out of the past 10 years, has been the No.1 SBA 504 lender in Clark County in volume and number of loans.
Chris is a fantastic addition to the Southern Nevada team. TMC is excited for Chris to expand his reach and continue his success with TMC.
Source: TMC Financing
Share: