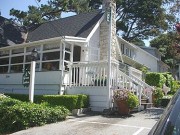 TMC Financing provides new owners SBA 504 portion of $4M loan
San Jose, CA, July 8, 2015 (Newswire.com) - ​​​TMC Financing today announced Sattva Investors LP financed the purchase of the Carmel Green Lantern Inn at SE Casanova & 7th Avenue in Carmel-by-the-Sea, Calif., with a 20-year, fixed-rate Small Business Administration 504 loan. The total project cost is $4.14 million.
"The main reason I bought it was the chance to put my fingerprints on it," owner Amrish Patel said. "We're making improvements, but maintaining its charm." The 17-room bed & breakfast's six cottages were built in 1927. "It has that old Carmel charm and we want to preserve that and offer more comfort inside and outside. We like to deliver customer experience," Patel said.
"Working with Kurt Chambliss and the TMC team is just outstanding. Their expertise and professionalism is just great. That's why I went back for a second loan and they did not disappoint."

Amrish Patel, Owner, Green Lantern Inn
Patel also owns the historic Centrella Inn in nearby Pacific Grove, which he also financed with an SBA 504 loan from TMC Financing. Hoteliers and other small business owners can have multiple SBA loans, as long as the total loan amount is less than $5 million ($5.5 million for manufacturing). Under recent regulatory changes, if energy-efficiency requirements are met, those limits are removed.
"Working with Kurt Chambliss and the TMC team is just outstanding," Patel said. "Their expertise and professionalism is just great. That's why I went back for a second loan and they did not disappoint."
Patel said the guest experience at his two B&Bs couldn't be more different. "The Green Lantern Inn has a great location and appeal. The cottages have their own entrances and two or three rooms. There isn't the hustle & bustle of the main drag and there's no traffic noise. It's quiet, peaceful and you can sit outside and hear the sound of the waves," he said.
"With Centrella, it's a very different experience. It's a Victorian inn built as a room and boarding house in 1889. It's a landmark on the National Register of Historic Places, so you really feel like you're going back to yesteryear. And Pacific Grove is a very different town," he said. "They really are unique experiences."
"Amrish is known for taking an under-performing property and really making it shine," Kurt Chambliss, senior vice president at TMC, said. "He really knows what guests want and both his B&Bs are historic and unique places to stay."
About SBA 504 real estate loans
The U.S. Small Business Administration 504 loan program allows small-business owners to finance commercial real estate and other fixed assets with long-term, below-market, fixed interest rates. SBA 504 loans can be used to finance the total project cost (TPC), which can include the purchase price, construction/renovations, equipment, soft costs and closing costs. A typical 504 loan project requires a down payment of only 10 percent of the TPC from the borrower, with the remaining amount split between a first mortgage provided by a commercial lender and a second mortgage provided by a certified development company (CDC). By enabling owners to keep their capital working to grow the business and create jobs, the 504 program provides long-term stability to both businesses and communities. Business owners can confirm they meet the qualifications for an SBA 504 loan by visiting the TMC Financing website.
About TMC Financing
Founded in 1981, TMC Financing is the largest provider of SBA 504 commercial real estate financing in Northern California and Nevada. TMC consistently ranks among the top CDCs nationwide, funding projects worth more than $8 billion across California and Nevada. More than 4,700 businesses have benefited from this financing, resulting in the creation of an estimated 46,000 jobs. For more information on SBA 504 loans and the local businesses they support, visit tmcfinancing.com.
# # #
Share: