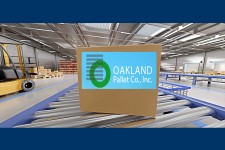 OAKLAND, Calif., August 16, 2018 (Newswire.com) - TMC Financing is proud to announce that their client Oakland Pallet Company, Inc. has recently purchased their FOURTH location with their FOURTH SBA loan!
After leasing warehouse space for many years, Carlos and Javier Padilla decided it was time to stop making lease payments to a landlord.
They obtained SBA financing that funded four different projects totaling $9 million.
Their first SBA loan in 1996 was used to purchase an asphalted 8.5-acre yard in San Lorenzo ($1.25m). In 2011, a second SBA loan enabled the company to expand into a facility in Modesto ($1.2m). In 2016, a third SBA loan financed the acquisition of a building in Woodland ($2.25m). Two years later, the company again turned to TMC Financing for another SBA 504 loan to purchase additional property in Modesto ($4.3m).
10% Down and Long-term Fixed Rate
The low down payment and attractive long-term fixed interest rate of the SBA 504 program made buying their buildings possible.
Today, the brothers write rent checks to themselves!
"As a family-owned business, the opportunity to take control of our future by owning our buildings was one of the most important steps we could ever take," Javier said. "Owning our buildings allows us to build equity while growing our business."
Oakland Pallet Co., Inc. is a manufacturer and supplier of up-cycled and custom recycled hybrid pallets, on-site pallet processing, and even a pallet design system! With over 200 employees in multiple facilities, the company services a wide-ranging customer base throughout the greater Bay Area.
Lease vs. Own Decision
Like many small business owners, the Padilla's were faced with the challenge of deciding how to continue to manage operations AND find capital for expansion.
"It was important for Oakland Pallet to continue to expand, not only to keep up with business demand, but also to set an example for other minority-owned businesses in the California manufacturing industry." – Carlos Padilla
When considering the purchase of a property for your business, the first step is to compare the cost to own vs. the cost to continue leasing. For example, when considering the purchase of the Woodland property, Javier and Carlos realized that the mortgage payment for the new facility would be approximately $600 less than their current lease expense. The tax benefits of owning more than compensated for the added cost of property taxes and insurance. Most importantly, by continuing to rent, they would be at the whim of a landlord and consistently rising rents. Owning the building gives the business the security of long-term stability in occupancy costs.
TMC Financing, the largest SBA 504 lender in Northern California, assisted the Padilla's throughout the entire process.
"Kurt and Anna were integral in helping our company expand. They guided us through our SBA loans and were responsive to our need and questions. Essentially, the financing allowed us to keep operating costs intact, and make and invest in the family's future." 
Congratulations Oakland Pallet!
How a 504 Loan Can Help Your Business Expand
The SBA 504 loan is specifically targeted to finance the purchase of the commercial real estate and long-term equipment. A 504 loan can be used for:
To learn more about the 504 loan contact TMC Financing's 504 loan experts. TMC is an SBA Premier Certified Lender and has funded projects worth more than $9 billion across California and Nevada, resulting in the creation of an estimated 60,000 jobs. With over 35 years of experience, TMC can help you find the financing that is best for you and guide you through the 504 loan process. Contact TMC Financing today.
Source: TMC Financing
Share: