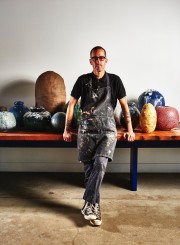 Master potter opens Adam Silverman Studio in greater Los Angeles using the U.S. Small Business Administration 504 commercial real estate program funding.
Los Angeles, CA, March 30, 2015 (Newswire.com) - TMC Financing today announced master potter Adam Silverman financed the purchase of a 4,350-square-foot studio and showroom at 510 W. Garfield Avenue in Glendale, California with a 20-year, fixed-rate Small Business Administration 504 real estate loan. The total project cost of just under $965,000 includes the purchase and subsequent improvements.
"It's so liberating," Silverman said. "The space is literally awash in light and air, and I can see that reflected in my work. There's a garden out back that's green and lovely and it brings life into the studio."
Silverman enjoys a cult following in the worlds of art and design for his textured pots, some of which take months to make. "Hopefully, my work is unique and not what you've seen before," he said. "Which, I guess, is an ambitious goal when people have been making pottery for 15,000 years?"
Formerly, Silverman created pottery under the Heath Ceramics L.A. studio. "After five great years at Heath, I started thinking of re-establishing my own studio. I knew if I didn't do this now, I wouldn't do it. I wanted a building I could settle in for a good, long time. I started looking at 10-year leases, and thought, 'this is ridiculous!'"
Silverman quickly found that owning can be more affordable than leasing. "I didn't think there was any way to get this on my own with the banking crisis and everyone being so conservative [in lending] now. I just thought I'd go along until I heard no, but I sat down with Jennifer [Davis from TMC] and she said, 'we can totally do this.'"
"Typical SBA 504 real estate loans require 10 percent down, but this was considered a startup so Adam injected 15 percent," TMC Financing Senior Vice President Jennifer Davis explained. "This is a great space for him and I'm glad we could help usher in his next chapter. He's been an architect, clothing designer and potter — I can't wait to see where his work goes from here."
"There was no possible way to do this without the SBA 504 program," Silverman said. "Jennifer held my hand the entire way and walked me through the steps. I'm grateful for her help in getting this done."
About SBA 504 real estate loans
The Small Business Administration 504 loan program allows small-business owners to finance commercial real estate and other fixed assets with long-term, below-market, fixed interest rates. SBA 504 loans can be used to finance the total project cost (TPC), which can include the purchase price, construction/renovations, equipment, soft costs and closing costs. A typical 504 loan project requires a down payment of only 10 percent of the TPC from the borrower, with the remaining amount split between a first mortgage provided by a commercial lender and a second mortgage provided by a certified development company (CDC). By enabling owners to keep their capital working to grow the business and create jobs, the 504 program provides businesses and communities long-term stability. Business owners can confirm they meet the qualifications for an SBA 504 loan by visiting the TMC Financing website.
About TMC Financing
Founded in 1981, TMC Financing is the largest provider of SBA 504 real estate financing in Northern California and Nevada. TMC consistently ranks among the top CDCs nationwide, funding projects worth more than $8 billion across California and Nevada. More than 4,700 businesses have benefitted from this financing, resulting in the creation of an estimated 35,000 jobs. For more information on SBA 504 loans and the local businesses they support, visit tmcfinancing.com.
Share: