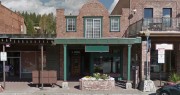 TMC Financing provides SBA 504 loan to Mo, Jo & Zoe's first permanent location
Sacramento, CA, June 29, 2015 (Newswire.com) - ​TMC Financing today announced the owner of Mo, Jo & Zoe financed the purchase of a 3,140-square-foot retail location at 10122 Donner Pass Road in Truckee, California, with a 20-year, fixed-rate Small Business Administration 504 loan. The total project cost is $1.15 million.
"By purchasing the building, we now have peace of mind," said Jo-Anne Kraemer, who owns the women's clothing and jewelry store with her daughter, Melinda Brown. "Because we're our own landlord, we know that down the road, we have options. If we decide to go another direction, we can rent it out. And in 20 or 30 years, it will still be a marketable building. It's a built-in retirement plan for me and perhaps for my daughter," she said. "There are just so many positives to owning your own building."
Kraemer got started in business helping her daughter design and market jewelry at Truckee Thursdays, the local farmer's market. As Mo, Jo & Zoe grew, they leased various locations in downtown Truckee. When Kraemer saw a for sale sign go up in a storefront in the heart of downtown's historic commercial row, she started asking around.
"I was talking to Tom Watson, who manages a lot of commercial property around here," Kraemer said, "and I mentioned I saw that Molly's Cupboard was up for sale. He said, 'you want to buy it?'"
Kraemer, who has a background in residential lending, told Watson she thought she could come up with the 30 percent down payment. "He said, 'don't worry about that, we'll get you connected with the SBA.' And that's what got us rolling," she said. "We made an offer the same day. Tom connected us with Rodney Borges at Plumas Bank and he introduced us to TMC."
Kraemer said she had a couple people tell her to expect the worst in going with the SBA. "You know, that was the furthest thing from the truth," she said. "I was purchasing a home at the same time – now that's crazy to do both at once – and that was much more intense and time-consuming," she laughed. "The SBA process was very smooth."
"In a small town, finding commercial real estate that fits your business can be tricky," Jim Azevedo, TMC senior vice president, said. "Spaces are usually too big for small retailers. So, when you find something that fits, you have to be ready to close quickly. We can help you get prequalified before you even find that perfect location."
"You know how small towns are," Kraemer said. "We talk. So when someone says they don't think they can afford to own their building, I tell them about the SBA. As a small-business owner, I'll never again have to worry about my landlord saying they're selling the building and the new owners don't want to lease."
Kraemer says Mo, Jo & Zoe is just one of the new and interesting businesses opening up in historic, downtown Truckee since the recession. "The shopping experience has become more well-rounded," she said. "The strip is really coming alive."
About SBA 504 real estate loans
The U.S. Small Business Administration 504 loan program allows small-business owners to finance commercial real estate and other fixed assets with long-term, below-market, fixed interest rates. SBA 504 loans can be used to finance the total project cost (TPC), which can include the purchase price, construction/renovations, equipment, soft costs and closing costs. A typical 504 loan project requires a down payment of only 10 percent of the TPC from the borrower, with the remaining amount split between a first mortgage provided by a commercial lender and a second mortgage provided by a certified development company (CDC). By enabling owners to keep their capital working to grow the business and create jobs, the 504 program provides long-term stability to both businesses and communities. Business owners can confirm they meet the qualifications for an SBA 504 loan by visiting the TMC Financing website.
About TMC Financing
Founded in 1981, TMC Financing is the largest provider of SBA 504 commercial real estate financing in Northern California and Nevada. TMC consistently ranks among the top CDCs nationwide, funding projects worth more than $8 billion across California and Nevada. More than 4,700 businesses have benefited from this financing, resulting in the creation of an estimated 46,000 jobs. For more information on SBA 504 loans and the local businesses they support, visit tmcfinancing.com.
Share: