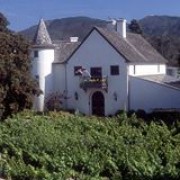 TMC Financing helps new winery get started with vineyard, tasting room & equipment
San Jose, CA, July 9, 2015 (Newswire.com) - ​​TMC Financing today announced the owners of Folktale, LLC financed the purchase of the winery and vineyard at 8940 Carmel Valley Road in Carmel, Calif., with a 20-year, fixed-rate Small Business Administration 504 loan. The purchase includes the vineyard, winery, bottling plant, farmhouse, estate residence, land and equipment.
The project took more than a year to come to fruition, according to Greg Ahn, majority owner of Folktale. "This was a natural extension of our existing wine business," Ahn explained. "Developing our direct-to-consumer business with a tasting room and special event venue was part of the plan and once we looked at this property's unique location and assets, we decided to work with Mahoney & Associates to approach the owner and make an unsolicited offer."
After several rounds of back-and-forth negotiation, Ahn and his partners agreed to buy the property, but not the winery business that had existed on the former Chateau Julien property. "The Chateau Julien brand was something the family wanted to keep growing, and we were excited to make it our own," Ahn said. "We're spending the next few weeks re-imagining the public spaces and giving it a new personality in time for a soft re-opening in early July. Our plan is to continue substantial renovations throughout the year."
Ahn's portfolio wine company, Alcohol By Volume, ranks as one of the fastest-growing companies in the Silicon Valley and is No. 251 on the Inc. 5000 list of the fastest-growing private U.S. companies. ABV will move production of their Monterey wines to the new Folktale Winery & Vineyard, while their North Coast wines will continue to be produced in Napa. The Folktale wines will source from 100 percent Monterey vineyards and focus on Burgundian varietals. "My partners and I have been preparing for the past year, including making wine in anticipation of this," Ahn said. "So the Folktale label will launch with the 2013 vintage of Monterey Chardonnay and Monterey Pinot Noir."
The tasting room will also pour and sell a limited selection of wines from the ABV portfolio until production is fully operational. "The winery will be the new home for Le Mistral, which we are excited about. The ownership group includes some of the best grape growers in the area, so there are up to 600 acres under vine that can be sourced directly," Ahn said. "And there's a 5-acre vineyard on the property that we'll make wine from this year."
Folktale will launch a sub-brand next spring, called Talking Animals. "All the animals seem to talk in folktales," Ahn said, noting the new brand will be aimed at putting a spotlight on some of the lesser known grapes that he believes are undiscovered treasures in Monterey. "I would hope to have six different winemakers each making a wine based on what they find surprising or awesome about Monterey grapes. We'll have six different stories representing the best in Monterey wines."
Ahn said having the winery, vineyard and tasting room was a key piece of his business strategy. "Direct-to-consumer is the fastest-growing channel in the wine industry," he said. "We'll get to educate and interact with our customers in a way we don't get to now. TMC, Pinnacle Bank and our brokers, Mahoney & Associates, were great partners in the amount of energy and work they put in to getting us closed on time. It was a challenging deal, but TMC did a great job of managing the challenges. Bruce [Whitaker, senior vice president at TMC] was a pleasure to work with, as was everyone else," Ahn said.
Local reaction has been fraught with mystery and hearsay, Ahn said. "I think people are excited to see what we'll do. We've hosted a couple of vendor tours and they've been over the moon. They seem glad to hear that the new owners are locals committed to Carmel and Monterey County."
About SBA 504 real estate loans
The U.S. Small Business Administration 504 loan program allows small-business owners to finance commercial real estate and other fixed assets with long-term, below-market, fixed interest rates. SBA 504 loans can be used to finance the total project cost (TPC), which can include the purchase price, construction/renovations, equipment, soft costs and closing costs. A typical 504 loan project requires a down payment of only 10 percent of the TPC from the borrower, with the remaining amount split between a first mortgage provided by a commercial lender and a second mortgage provided by a certified development company (CDC). By enabling owners to keep their capital working to grow the business and create jobs, the 504 program provides long-term stability to both businesses and communities. Business owners can confirm they meet the qualifications for an SBA 504 loan by visiting the TMC Financing website.
About TMC Financing
Founded in 1981, TMC Financing is the largest provider of SBA 504 commercial real estate financing in Northern California and Nevada. TMC consistently ranks among the top CDCs nationwide, funding projects worth more than $8 billion across California and Nevada. More than 4,700 businesses have benefited from this financing, resulting in the creation of an estimated 46,000 jobs. For more information on SBA 504 loans and the local businesses they support, visit tmcfinancing.com.
Share: